Information


a beer club recent event, how it works for beer lovers
Beer club wed. night august 7 ,2013

Anderson Valley Brewing Company

Ryan Niebuhr came down to Mr Beerys on Wednesdy August 7th and brought down 8 different beers from Anderson Valley Brewing Company in Northern California, here is what happend

Mr Beery's blog | Facebook Posted August 19
Anderson Valley :
History of the bewery
Founded in 1987, the Anderson Valley Brewing Company brewed out of a 10-barrel brewhouse, located in the lower level of its brewpub, The Buckhorn Saloon. These brews began as a dream of Kenneth Allen to create the smoothest tasting ales available anywhere. The company grew in leaps and bounds. They moved in 996 a mile from the center of Boonville.In 997 the bottling line started and by 1998 they produced a production level of 15,000 barrels, twice the amount brewed in 1997.
Yet, the brewery's growth was outpacing its larger space and expanded capacity. In 1998, construction began on a state-of-the-art, three-story Bavarian-style brewhouse. The centerpieces of the brewhouse are gleaming 100- and 85- barrel copper brew kettles rescued by Ken Allen from a defunct German breweries during a trip to Europe in 1995. The new brewhouse went online in August of 2000.
By 2010 Ken Allen decided to retire and began to search for a successor to continue the Anderson Valley commitment to quality. In April of 2010 the brewery sold to industry veteran Trey White. In September of that year Fal Allen (former general manager 2000 – 2004, no relation to Ken) returned to the brewery as brewmaster. White has focused on innovation and quality, introducing the Bahl Hornin' Series, expanding the barrel aged program, and increasing brewing capacity.
The Beers and the Event
Beer Club was treated to a great night of drinking and Anderson Valley information. It started with the first beer a Summer Solstice, it's a Alcohol By Volume of 5.0% ( ABV= 5.0%)
The taste was quite pleasing with it's mellow color and smooth taste. It's slightly sweet and has a malty, clean finish. Everyone was commenting on it's "Cream Soda" taste
although I had a tough time tasting it at first but by the end ot the beer you understood what the others were catching from the start. It was good all around beer, from start to finish.
The next beer was EL Steinber and an ABV of 5.5%. It was a new release for Anderson and they were happy of it's outcome, Ryan was proud of this one and had everyone know it. The beer had a dark brown color to it and he said it was a roasted Indio-Hispanic blue corn base with brown sugar, malt and of course hops. It was enjoyable and clean, drinking it down fast was a little hard but it did go down easier once you got used to it.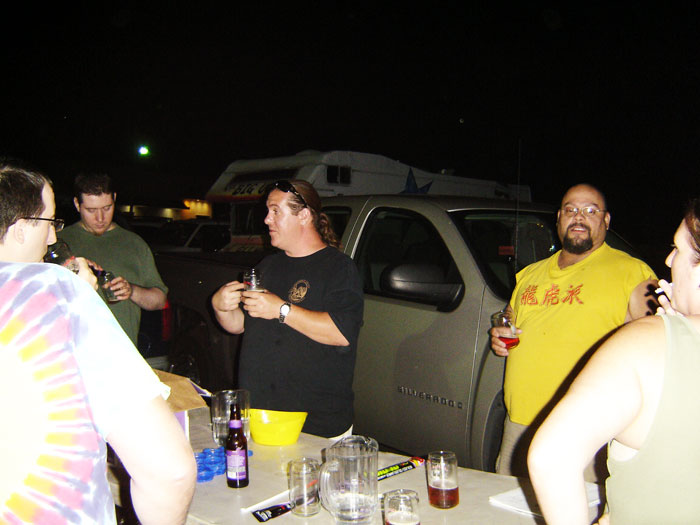 Ryan gives everyone the low down on the Anderson Hop Ottin beer.
The third beer was the Boont Amber Ale ABV of 5.8%, a nice beer but hsd s fruity taste to it. The beer was described as a spicy bitterness with hints of toffee and fruity esters. Fancy for fruity backend. It was good and most of the group enjoyed it. IWhen you looked at the beer it was copper and had a clear color with a caramel sweet flavor to it also, and fruity...I thought...
The next beer was a Hop Ottin IPA 7.0% ABV, a little strong but tasty. This is a Hoppy beer indeed. It has a grapefruit and piney flavor to it with a flowery end to it. Crisp and a clean and an amber look to it. Again another great beer to drink a few of during dinner or just at the bar.
Next was the Heeich O'Hops Double IPA with a 8.7%ABV rating. This was strong and bold at the same time.The beer had a mix of grapefruit, redwood needles, hints of vanilla, mangos, peppercorn and tons of hops. The Almost solid brass look to it was something to see in the light. as you can see below. I nice beer PERIOD....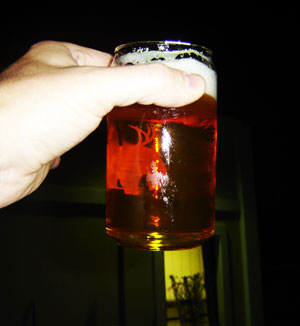 O' Hops Double IPA, a nice color, a nice beer....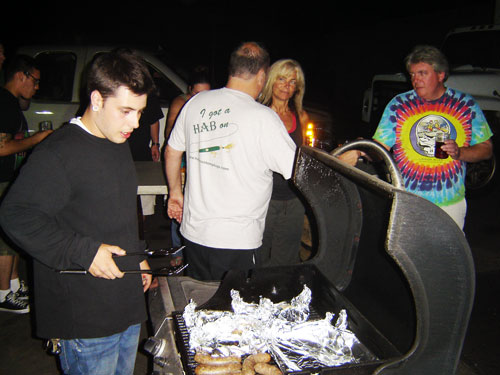 The BBQ had everyone well feed before leaving.
By this time there was happy people every where. The beer was flowing and the information about each beer was generating many questions. Why is this color? Why does it taste like toffee? Why is my mouth happy? Why is the guy next to me drinking MY beer?......... Beery would just say STOP TALKING AND DRINK YOUR BEER!!!!!
The next beer was a treat it was an Oatmeal Stout. Called Barney Flats Oatmeal Stout with an ABV of 5.7%. This beer was dark beer or stout really, no light was seen through this one, it had a brownish head to it, Ryan said it was mahogany color...Ok then that is what it was, mahogany color foamy head. A bready taste with an espresso, dried cherries, toffee and a creamy end to it in the mouth. It was an Oatmeal Stout alright, nice to the end but heavy...
The next beer was a Bourban Barrel Stout at 9% ABV, another strong beer with a bit of Wild Turkey Bourban Barrel so called taste to it. The story goes that the Barrels from Wild Turkey that they use to keep the Bourban in are used and drained of the bourban and then sold to Anderson Valley for this beer to be filled into them. Thus the Wild Turkey barrels that the beer is aged in them for about 3 months aquire the taste and bite from the barrels bourbon weep or mixing. The brown color and brady flavor also tastes of toffee, espresso, vanilla and chocolate in the beer as well as roasted barley and the Wild Turkey Bourbon bite to it....
The last beer was a Altenmunster Festbier at 5.5% ABV. This beer was a pleasant tasting festbier in the true German style with mild malt sweetness and just a touch of grassy hop bitterness that comes at the end. Another great beer but my favorites were the beers before this one. Hey. everyone had a favorite, that is what Beer Club is all about. You drink beer actually you drink several beers and pick out the beers you like. Plus you learn something about the beer and it's makers.
This Beer Club was just a night of many that happen at Mr Beerys, with or with out you......... $20 and drink and taste and talk about beer, not bad for a Wednesday night...
sign up | talk about it | updated August 19, 2013